SPM/PL004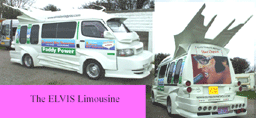 UNITED KINGDOM OUTREACH MINISTRIES: ELVIS LIMO
The ELVIS Limo is a one of a kind machine. This vehicle gets more attention than a lunar eclipse! She brings a smile to everyone's face who sees her and they all want a photograph. The sponsor's company or organisation can be advertised on her sides using magnetic plates to create awareness for a brand or event. She travels all over the UK and Ireland and comes with her very own award winning ELVIS Tribute Artist, (please see website)to attract even more attention. She is fitted out inside to limousine specification, including huge sound system, TV, XBox and champagne fridge. She also loves to be involved in corporate functions, films, TV, weddings and other special occasions. Sponsorship packages start from £500.00. Contact: Rev. Dr. Steven Caprice. Address: 3 Chapel Close, Humbleton, Hull, HU11 4NP. Tel.: 01964 670162. E-mail: stephenbull@onetel.com
link to website
Ongoing

Sub-section

Autograss Racing

SMU/0001
SHARP-SPEED
Sharp-Speed offers the opportunity to support Autograss, an up and coming sport that is shown on Sky Sports and also available on DVD, with further coverage in magazine media. This is a truly exciting sport, with the racing taking place all over England, Scotland, Ireland and Wales. Sharp-Speed are offering sponsors the chance to have their company name and/or logo displayed in a number of available places on a brand new built car: an Autograss Class 3 Toyota Starlet race car using Ford running gear and the ultimate American Ford powertrain - a guaranteed front runner! As this is an emerging sport, the sponsor's logo/company name could be on the car for as little as £50.00 per annum, with the additional benefits of racing merchandise and other advertising material. More details are available on request. Contact: Martin Sharp. Address: 22 Springbank Crescent, Gildersome, Morley, Leeds, Yorkshire LS27 7DN. Tel.: 07914 374438. E-mail: v.heeley1@ntlworld.com.

Ongoing

Sub-section

Drag Racing

SMD/0001
PRECIOUS METAL DRAG RACING TEAM
Precious Metal is a drag racing team that travels to different race tracks throughout the UK. Drag Racing is a worldwide sport - very well known with plenty of media coverage. The sport features international and national meetings with TV, newspaper and national magazine crews. Precious Metal has been featured in Custom Car and is often seen on the websites www.santapod.co.uk and www.eurodragster.com. Precious Metal itself is a 1970 Chevelle Chevrolet and has been running for four years. It started as a 17 second car and is now a 10 second car. A full and detailed profile is available detailing the many advertising opportunities offered to sponsors. Contact: Carla Imbrenda, PR Manager. Tel.: 01202 461 272. Address: 66 Canford Road, Wallisdown, Bournemouth BH11 8SA. E-mail: pmdrchevrolet@yahoo.co.uk.

Ongoing

Sub-section

Freightmaster Racing

SFR/0001
FREIGHTMASTER RACING
No team can claim to have been part of the MGF Cup longer than Freightmaster Racing, which features top women drivers Annie Templeton and Suzi Hart-Banks, and few can boast as much press and radio coverage. In addition to sponsor's logos on the race car transporter and awnings, the team can also offer identification on the Freightmaster fleet which travels the length and breadth of the UK. Contact: Steve Malkin, Managing Director. Address: Image Wizard PR, 98-102 Station Road East, Oxted, Surrey RH8 0QA. Tel.: 01883-730666. Fax: 01883-730668. E-mail: news@imagewizard.co.uk.

Ongoing

Sub-section

Karting

SKA/0001
CLUB 100
Club 100 is one of the most competitive forms of karting in Europe today, say the organisers, with major venues nationwide. As well as attracting large crowds, the competitors themselves are wealthy, young and have a large disposable income. Most of the drivers are already signed up to sponsorship deals with the likes of sports car manufacturers, insurance companies, clothing retailers, etc. but an opportunity exists for a team sponsor in the endurance, sprint and elite championships. Contact: Dave Cottrell. Address: 9 Godric Square, Woodston, Peterborough PE2 7JJ. Tel.: 01733 237714. Fax: 01733 370299. E-mail: yesteryear@barclays.net.
link to website
Ongoing

Sub-section

Media

SMM/001
USED CAR TRADER
Used Car Trader boasts a position as the fastest growing 'Free To Advertise' used car website in the UK - the UK's No.1 for both buying used cars and selling used cars. Used Car Trader offers both Private and Trade advertisers free advertisements: it's simple - advertisers simply add their used car's registration to the site's system and it takes them through the process of building their used car adverts step by step (and yes, it's free!). Used Car Trader is now seeking a sponsor to help with the ongoing development and marketing of the site. Contact: Kevin Beard. Address: 54 Colleymoor Leys Lane, Nottingham NG11 8AJ. Tel.: 07740 640896. E-mail: kevin@gratismedia.co.uk.
link to website
Ongoing

Sub-section

Performance Cars

SPC/001
THE SUPER WEEKEND
The Super Weekend is delighted to be able to offer a brilliant opportunity to get involved with a fantastic developing event in the south west of the UK. For a film of the event, please click here: http://www.youtube.com/watch?v=CDC4NvoCmMw. "In 2012, Heart Radio and Devon Life were our media partners and we will again be involved with them in 2013. This year the event combines with the finals of Miss England 2013 which will be taking place on the same weekend. This presents an opportunity for huge exposure as a sponsor. We would like to invite a company seeking great exposure and associations with this prestigious event and brands such as Aston Martin, Bentley, Lamborghini, Sunseeker, etc., to get in touch with us at the earliest opportunity". Contact: Matt Palmes. Address: Knoll Hall, 10 Barton Road, Torquay TQ1 4DS. Tel.: 447974020164. E-mail: matt@thesuperweekend.co.uk.
link to website Other information

For some great photos from the event, click the link below:

http://www.flickr.com/photos/riviera_guy/7577951236/in/set-72157630595577734/
Ongoing

Sub-section

Rally Schools

SRS/0001
GWYNNESPEED RALLY SCHOOLS
Operating in the heart of the Cotswolds, GwynneSpeed Rally Schools have for 8 years specialised in providing white knuckle rally driving corporate and public experience days. The opportunity is a simple one ­ their new fleet of cars is available on a 'first come, first served' basis for companies to promote their brand in whatever way they wish. The exterior of the Group 8 rally car (up to 8 are available) is exclusive to the sponsor and lasts for 2 years. Benefits include exposure at a wide range of motor events and competitions, demonstrations, corporate entertainment days and public days (eg the Gti National outdoor motor show), transport to the event of the sponsor's choice (eg a company day or press event) and a discount of between 25% and 40% on the company's rally corporate day package, depending on the level of commitment. Each car is available for just £2,000 pa (for 2 years). An entire fleet of GpA Rally cars is available at £16,000. This offer is limited and subject to availability. Contact: Marc Phelps. Tel.: 01242 580365. Fax: 01242 261816. E-mail: marc@theedge.co.uk.

Ongoing

Sub-section

Truck racing

STR/0001
MTR PROMOTIONS
Sponsorship opportunities are offered in connection with the first non-American Monster Truck race series. Contact: Nick Richardson/Nigel Morris, Business Development Managers. Address: MTR Promotions, 18 Lanchester Way, Royal Oak Industrial Estate, Daventry NN11 5PH. Tel.: 07931 521145. E-mail: info@mtrpromotions.co.uk.
link to website
Ongoing